150 Olympic-size swimming pools of drinking water extracted from milk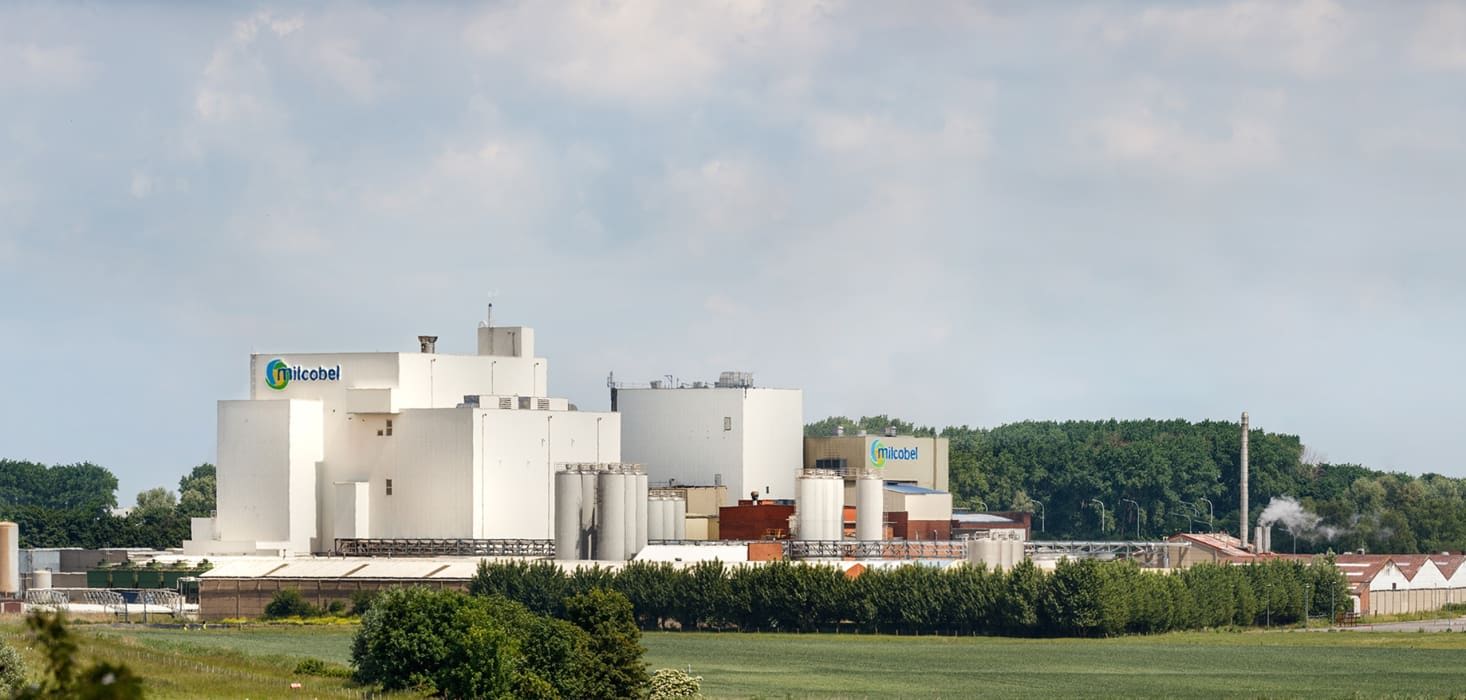 With groundwater being expensive and increasingly rare, the world is turning to other sources of water. One such example can be seen at Milcobel which, as part of its commitment to sustainability, is seeking to increase water reuse and make the most of all by-products from milk processing. Once the milk has been processed, any leftover water is treated to bring it up to drinking-water quality, before being reused for a range of purposes. Thanks to its new drinking-water facilities in Kallo and Langemark, Milcobel now has the capacity to recover no fewer than 150 Olympic-size swimming pools of water per year. This closes the loop and moves one step closer to a circular economy.
For many years now, all of Milcobel's sites have been equipped with water treatment facilities for purifying wastewater and discharging effluents (treated wastewater) into surface waters. This treatment process is required to comply with government standards.
But with the new drinking-water facilities set up in partnership with De Watergroep in Kallo and Langemark, Milcobel is going even further: excess water from milk that previously would have been sent to be processed as wastewater is now upgraded to drinking-water quality at these new facilities.
How do you make high-quality water from milk?
Whether we are manufacturing powdered milk or cheese, water is still extracted from the milk.
Kallo is where Milcobel produces its high-quality powdered milk. To do this, milk is heated until the water it contains evaporates and only a powder remains. The water vapour is then condensed and collected in tanks, before being upgraded (through biological filtration, ultrafiltration and reverse osmosis) to reach drinking-water quality end being reinjected into Milcobel's own drinking water network. An additional UV disinfection stage, in which some of the water is disinfected without chlorine, also takes place. This results in very high-quality water containing no chlorate that is in fact better quality than tap water.
Milcobel's Langemark site is a major producer of mozzarella. This production process involves transforming the dry matter in milk into cheese. The leftover liquid – whey – is then filtered to concentrate it to close to 10% dry matter. Previously, the whey permeate produced by filtration was used as lower-quality water. Now, though, it is upgraded to make it suitable for consumption thanks to an additional filtration process (using UV disinfection and reverse osmosis). This allows it to partially replace tap water, including softened tap water.
In both cases, the purified water is extremely high quality and soft, with little or no hardness (calcium, magnesium, etc.), meaning that it can be used straight away as soft water. In Kallo, the quality of this water exceeds that of tap water because around 10% of the treated water is also disinfected by a UV system to bring it up to a very high standard containing little or no chlorate.
A significant partnership with De Watergroep (The Watergroup)
A high-tech project such as this calls for very specific knowledge and expertise. One key challenge was that the treatment facilities needed to be linked directly to both the production process and other infrastructure. De Watergroep was therefore the natural choice of partner. Due to the Flanders region's shortage of drinking water, one of the areas De Watergroep focuses heavily on is diversifying sources of water. It therefore has a particular interest in investing in this type of project. Flanders has a low water availability per inhabitant. By focusing on, among other things, circular water applications, De Watergroep aims at avoiding that water scarcity - under the influence of climate change - leads to water shortages.
De Watergroep is able to bring the expertise in terms of quality and control that is needed to keep standards consistently high – something that is especially important to a food manufacturer such as Milcobel that holds itself to stringent quality standards.
150 Olympic-size swimming pools in Kallo and Langemark
It goes without saying that this project offers major ecological and financial benefits. Each year, no fewer than 150 Olympic-size swimming pools of water are purified and reused. That is the equivalent of 350,000m3 less tap water that we have to buy per year. It is a great example of circularity.
Even more Olympic-size swimming pools thanks to the Moorslede site
In 2014, Milcobel installed a drinking-water facility at its Moorslede site, to be run in-house. This RO (reverse osmosis) facility turns whey into whey concentrate. The RO water (the permeate) is then converted into quality drinking water that can be used to replace tap water. At Moorslede, we save 160,000m3 of water per year by doing this – the equivalent of 68 Olympic-size pools.
Not bad, right? In total, each year, we convert some 510,000m3 of water into water fit for human consumption across our three sites (Kallo, Langemark and Moorslede)!